WCS Wellness Committee
Warren Consolidated Schools is committed to creating a healthy school environment that enhances the development of lifelong wellness practices to promote healthy eating and physical activities that support student achievement.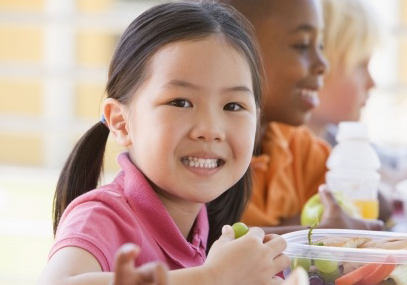 The Board of Education recognizes that good nutrition and regular physical activity affect the health and well-being of the District's students. Research concludes that there is a positive correlation between a student's health and well-being and his/her ability to learn. Schools can play an important role in the developmental process allowing students to establish their health and nutrition habits by providing nutritious meals and snack, supporting the development of good eating habits, and promoting increased physical activity both in and out of school.
The effort to support the students' development of healthy behaviors and habits with regard to eating and exercise cannot be accomplished by the schools alone. It will be necessary for not only the staff, but also parents and the public at large to be involved in a community-wide effort to promote, support, and model such healthy behaviors and habits.
---
---
Easy and Healthy Snack Ideas
By Dietetic Intern Hannah Stowers
Eating healthy snacks during the day helps kids grow, focus in school and refuel after burning off energy. Snacks can help provide nutrients that kids need and keep them from overeating at meal times.
Snack Ideas:
Frozen yogurt covered blueberries
Peanut butter and banana whole wheat toast
Avocado and whole wheat toast
Hummus and veggies
Chocolate chip, raisin, pretzel, and popcorn trail mix
Graham crackers topped with cream cheese and fruit
Tips:
Serve snacks with low fat milk or water (Limit sugary drinks to 4 ounces or less a day)
Get the kids involved by letting them help prepare the snack
Don' t serve snacks within an hour and a half of meal times to avoid ruining their appetite
---
---
Five fun ways to add more fruits and vegetables to your diet
Make a fruit smoothie with low fat milk and any fruit of your choice. Strawberries and bananas is a classic combination!
Use vegetables as pizza toppings! Spinach, tomatoes, and peppers are just some of the choices you can choose-from.
Freeze grapes for a yummy and cool treat!
Swap chips and dip for veggies and dip! If you are looking for a crunchy snack, this is a great alternative. Pair the vegetables with your favorite low fat dressing.
Add fruit to your toast in the morning! Pair peanut butter and bananas for a protein filled breakfast or spread some mashed avocados with a sprinkle of salt and pepper for a breakfast filled with healthy fats!
---
How to pack healthy school lunches for kids on a budget

Shopping Tips:

Include a variety of healthful foods from all food groups.
Consider foods you already have in the house before shopping
Buy only the amount you are planning on consuming or that can be frozen for later
Check of coupons! Also find items on sale to use.
Be mindful of portion sizes and food safety practices
Most importantly HAVE FUN WITH FOOD!
Example Lunch Items That are Cheap, Easy and Healthy:
Low fat yogurt
Low fat cheese sticks
Fruit cups (packed in natural juices or light syrup)
Baby carrots
Fresh veggies (pick what is in season)
Whole grain bread for sandwiches
Whole fruits (apples, banana, kiwi, ect)
2018-2019 WCS Wellness Initiatives
The District Wellness Committee recognizes schools for their participation in activities and events that promote health and wellness throughout the school year. Schools may use a wide variety of activities to cover many different areas of wellness. It is a goal of the District Wellness Initiative to not only encourage wellness for students, but to also promote wellness for staff and the local community.
At the June 5th Board of Education meeting, schools were recognized for their efforts based on the number of wellness activities in which the school/community participated. The award structure is modeled after the popular distance stickers that can be found on the back of cars displaying runners' accomplishments:
26.2 Marathon status
(participate in 10 or more activities)
Angus Elementary
Margaret Black Elementary
Cromie Elementary
Holden YR Elementary
Lean Elementary
Susick Elementary
Wilkerson Elementary
Agnes Beer Middle School
Carter Middle School
Grissom Middle School
Sterling Heights High School
Warren Mott High School
Career Prep Center
13.1 Half Marathon status
(participate in 7-9 activities)
Harwood Elementary
Wilde Elementary
Community High School
10K status
(participate in 10 or more activities)
Jefferson Elementary
Carleton Middle School
5K status
(participate in 1-3 activities)
Cromie Elementary
Green Acres Elementary
Willow Woods Elementary
Cousino High School
MMSTC
MS2TC
---